This picture exhibits a bunch of friends trekking through the trails of Kedarkanth trek route in northern India. The group felt lucky to experience four days of snowfall and enjoyed the scenic beauty throughout the trek duration.  This trek is popular amongst seasonal trekkers and the beginners due to its beautiful forests and stunning clearings making way to multiple campsites across the trek. The trek is not easy and is steadily steep right from the start.
A few winters are different than the usual ones and take us to the childhood tales. The picture shows another scenic view of the Kedarkanth trek wherein it feels like we have been transported to Narnia, the fantasy world of magic 🙂. 
Day 1 – Gaichwan Gao to Julota (Altitude Gain: 5,571 ft to 8,924 ft)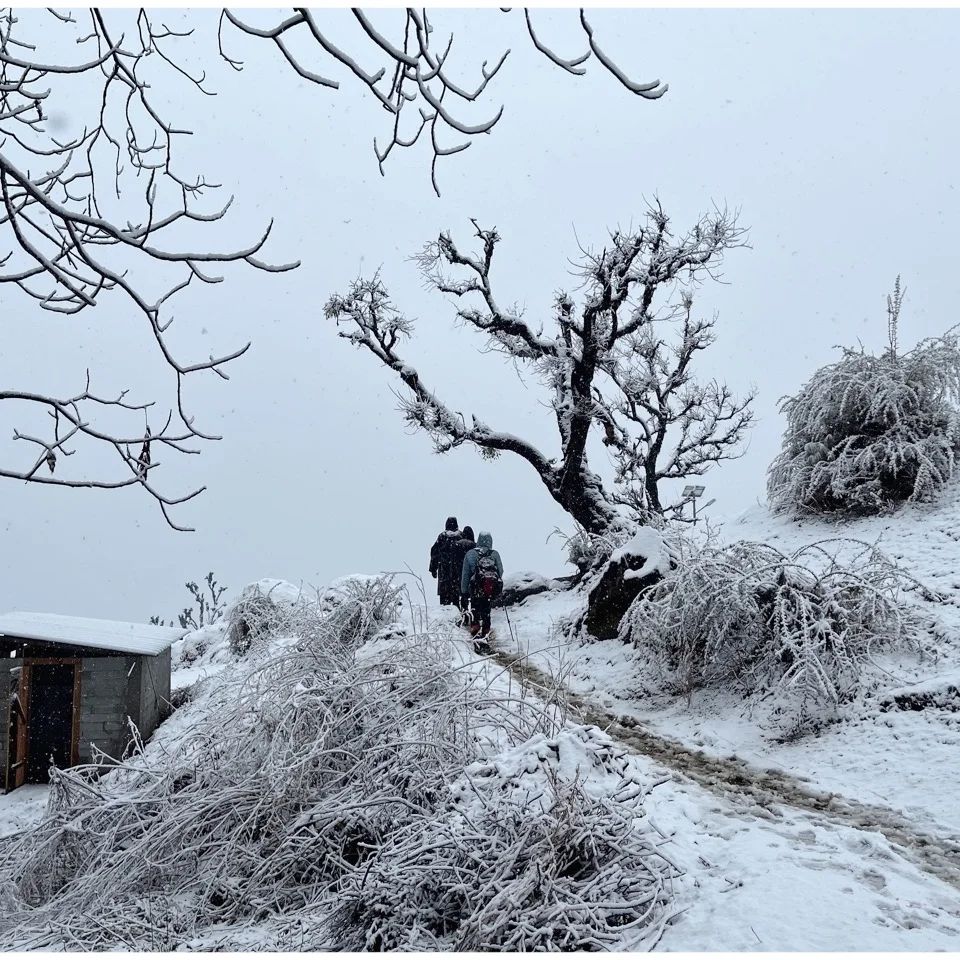 08: 10am,
January 5, 2022
We had our breakfast and we assembled with our backpacks ON. Our Trek leader gave us some quick training tips and asked everyone to put on their raincoats or ponchos considering the cloud movements. We practiced quick training and headed to the village where we started hiking in the woods.
10: 20am
January 5, 2022
चलते चलते जब थक जायें आप !

तब,

कुछ मीठा हो जाये !!
After 2 kms of steep climb on first day of the trek which started at Gaichwan gao, we reached a small dhaba(local restaurant serving traditional food). We all acted like we are Okay but deep down inside, we all were 'Hungry' again.
We saw a few sweets while hearing a voice shouting "Chikki and Barfi are on the house", and that signal was enough for us to see an empty plate in a jiffy 😜
After having some sweets we also got to taste Sidku there. Sidku is a local food similar to kachoris but is steam cooked like momos instead, and has a fine stuffing made up of a few home made spices.
01: 30pm,
January 5, 2022
मंज़िलें अपनी जगह हैं,

रास्ते अपनी जगह!!
Day 1 trek from Gaichawan Gaon to Julota, having a distance of 5.18 km with altitude gain from 5,571 ft to 8,924 ft was enough to drain energies of many team members.
Yet, everyone lit up again with a sense of achievement as they saw banner marking their arrival at the first campsite – Julota.
Most of us being new to the kind of experiences we had started to experience during this trek, kept us curious and excited about everything.
🌨️🌨️🌨️❄️🤧🤧
2:30 pm
January 5, 2022
पंछी, पर्वत, और पेड़ – कुछ दिन प्रकृति की गोद में !
After reaching our campsite, we felt elated.
Be it the foggy morning, breakfast under mild showers, slippery climbs under heavy rains, proper use of gears, packing everything out, first snow fall experience, everything added to our experiences and appeared to teach us a life lesson in its own way.
We had our meals and headed towards the tents to relax so as to gather for the evening snacks and a few group activities later.
We were busy learning and practicing lessons as we had no other choice to slip on, and there comes another surprise – Our tents, we looked at them and we were already frozen; another exciting set of survival skills awaited us. 🌨️🌨️🌨️❄️🤧🤧
5:04 pm
January 5, 2022
Snowflakes are one of nature's most fragile things, but just look what they can do when they stick together.
We came out of our tents and looked at our tents, they were snow-covered. We gathered for evening snacks, had fun around followed by team dinner.
With dinner, we were served with next day's trek schedule and guidelines by our trek leader.
We were busy with fun things, and the organizer's team i.e. Indiahikes was clearing the snow from the tents. They repeated this every few minutes while we were there.
We thank Indiahikes for their hard work and sleepless nights that allowed us to sleep through the unstoppable snow.
Day 2 – Julota to Pukhrola(Altitude Gain: 8,920 ft to 10,870 ft)
7:30 am
January 6, 2022
People say, "First snow is like first love". And we all got it in abundance during our entire trek 😂😂😂🌨️🌨️❄️❄️
No matter how hard we try to sleep all night. The weather, snow shovels, and elevation changes made it difficult to get a good night's sleep.
As we got out of the tent in the morning, the sight took over our hearts and none of us felt tired thereon.
We had to do our morning work and leave 30 minutes later. We managed to get around and did a few memory clicks before we assembled again.
9:50 am
January 6, 2022
कोई वाई-फाई नहीं है, लेकिन एक बेहतर कनेक्शन ज़रूर मिलेगा!!
The morning scenery kept us excited for the day's hike. Due to overnight snowfall, we began for the lap with our gaiters On.
We walked through a steadily steep stretch of tall, snow covered pine trees, followed by a stunning view of a huge clearing which marked our transition into another forest.
The pristine wilderness heightens the joy as we were opening the trail instead of following one. The sense of oneness with the forest was a serene experience, and made many of us think about "being ourselves".
Arriving at camp, we had a lot of fun, countless life experiences, a few new friends and a question – Are we really going to push the summit next day?
5:00pm
January 6, 2022
आशियाना !!
After eating and resting for a while, we went for a stroll in the snow.
We gathered for the evening snack with hopes to get a confirmation on – "Are we really going to push the summit next morning?", but our trek leader put the decision off till dinner to brainstorm again on the risks associated with the group due to bad weather forecasts and continuous snowfall we were already into.
Everyone in the group was excited to push the summit hence we decided to stay in the dining tents till dinner and kept speculating the decision with fun elements pitched in.
7:30pm
January 6, 2022
"Folks, I spoke to our teams down there at Gaichwan and in last 6 days, 3 teams attempted the summit push and none of them could go further than half the route. They had to return from upper Pukhrola due to bad climate", Our trek leader entered our dining tent while shouting.
"We have bad weather forecast for tomorrow as well, and higher chances are that we may also end-up not doing it". It was indifferent to our expectations.
"I am not a person who believe weather forecasts much, and we will attempt the push tomorrow morning", he added. His statement made us smile and anxious.
He continued: "snowfall, wind and negative temperature are making it challenging, but the pace and fitness of our group over the last two days is that if we can't, other teams can't achieve it for a few days. Considering the challenges in opening the routes which are closed for last 6 days, we asked for help, and two of our kitchen staff will accompany us".
"This is fun tomorrow morning, so eat properly, sleep well, and respect the timings. Morning 6:30; Tea milega, 7 is breakfast, and 7:30am will leave" were his words, following various instructions on packing, wearing right layers before we go to bed.
Day 3 – Summit Push (Altitude Gain: 10,870 ft to 12,500 ft)
4:00 am
January 7, 2022
प्रकृति, हर पल बदलता निराला अंदाज़ !!
Me and my friends woke up early and were delighted to see a clear sky out there after about 48 hours of snowfall and wind. We considered it as a sign of a successful summit push.
We started hiking on time. We walked for about an hour in a dense forest having a few water streams and most of which were frozen. Soon we found ourselves into a clearing to the summit climb. The ascend till the clearing was a collection of surrealistic scenery, but the next stretch was a bit harsh on the eyes as the sun shined across the fresh snow, and was making us snow blind at intervals.
We encountered many wind gusts, dark clouds, and the bright sun. They all taught us to blend in with our surroundings until we reached the shoulders of the summit, providing us with a wealth of lifelong experience and skills in our lives.
9:30 am
January 7, 2022
मंजिल से बेहतर लगने लगे हैं यह रास्ते!
It takes courage to create your own path. That's what our trek leader's team did for us in our first snow trekking experience.
We were the first group to be able to climb the summit in the last 6 days after heavy snowfall. We were happy to be able to do this because our trekking guide was crazy enough to do it while taking responsibility for everyone around us. The attempt removed our fear of adversity and reminded us that we can always seek help if we need it, we just have to be crazy.
Thanks to them for delivering an overall great experiences during the entire trek.
11:00 am
January 7, 2022
पर्वत का शिखर !
😁😁😁 We Did It 😁😁😁
At first, many of us were nervous, anxious, and experimental about that day's hike distance, elevation and weather. Many of us struggled a bit physically, mentally and emotionally, but kept moving at our own pace.
Even if everyone was not able to reach the summit, everybody was soaked up with lifetime experiences and a lot of memories they will cry, laugh, and have fun about whenever they'll flash. On returning back to the campsite, everyone was transformed for the good, and had the same feeling, "Accomplished".